This freelance marketplace template is not just a ready-made design but your entire website under ONE platform. It has all the features you need for a freelance marketplace, pre-installed on the site, so save yourself from the hassle of developing your site from scratch.
Features Overview of the Freelance
Marketplace Template
One-Click Setup
You'll be able to set up your entire site with just one click, and it'll be ready for customisation.
---
Easy Setup
One click is all you need to get your freelance marketplace website up and running. (All the required features are already installed and ready!)
Build your Website with MakeYourWP
in 3 Simple Steps.
01
Choose your Website Template.
02
Purchase the plan you want.
03
Customize the content to suit your offer.
And, done. Your website is ready to conquer
the business world!
How to get started with MakeYourWP?
MakeYourWP is your entire WordPress website in ONE platform.
From hosting, domain, and design, to setting up, adding features, and managing the website, MakeYourWP takes care of everything for you.
Automatic Installation of all Necessary Tools & Plugins
The freelance Marketplace template has all the necessary powerful features in freelancing that help you build sites like Upwork, Fiverr, etc.
---
Tools and Features:
Gig Creation
Memberships
Dedicated member area – User login, Manage order, Settings.
Email alert and notification system
Job Advertising
Front-end Dashboard
Messaging (Chat)
Packages
Payment Gateway and Checkout
Plugins:
Design your Site Visually
Using Elementor
Accept Payments via Stripe
This plugin is used for accepting payments on your website
Hassle Free Text & Language Translation
Loco Translate will help you change and translate text on your website based on your needs with a few simple clicks. This can help you reach a wider audience base.
Handpicked BEST Features & Functionality
Pricing tables, memberships, upgrades, etc., to set up both free and paid micro jobs with optional add-ons and upgrades.
Membership
Users can Create Pricing Plans for the Service they Provide
Dedicated Member Area where users can log in, manage their
jobs/gigs, update profile details, pay invoices, etc.
User Dashboard Notifications
Email alert & notification system for users to be updated about their job inquiries and changes.
Users can Promote their Services on your Website
Job Advertising
Completely Customizable Design & Content
The template supports the free version of Elementor.
Many design blocks (provided by Elementor & Premium
Press plugins) are included in the template so that you
can customise any section on your website.
Customise Everything!
Supports the free version of Elementor. Exclusive design blocks to customise any section of your website.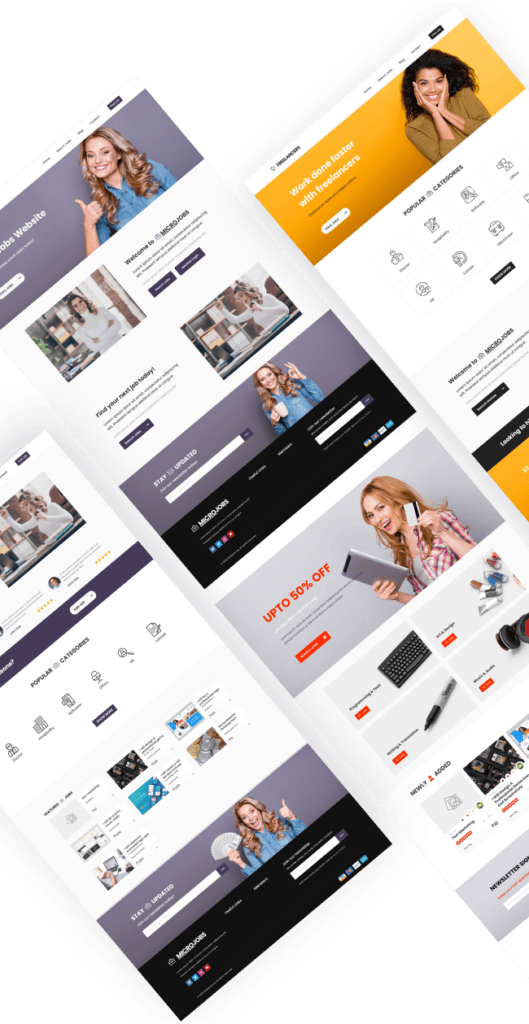 Comments, Ratings and Review for the Gigs Available.
Why is MakeYourWP the EASIEST Web
Design Platform?
When you purchase the MakeYourWP plan, WordPress is automatically installed.
To save you time & energy, we've picked out all the best, necessary tools & plugins for your website and pre-installed them in the templates.
Your template comes with everything you need already installed.
Unlike a normal WordPress theme (that you customize from scratch), the MakeYourWP templates are readymade websites built specifically for your business type.
You get a FREE staging site where you can test new features & make countless edits without it affecting your "real" website.
Liked the new edits in the staging site but worried that you have to repeat the same steps again in the "real" one?
With MakeYourWP, you can make the changes LIVE on your website with just a single click. Yep. It is that simple.
Secure Your Website with Wordfence Security
Prevent spam & unauthorised access to your
website. Secure your user details and website
with Wordfence Security.
Rank Better – Boost Organic Traffic
An all-rounder for all your SEO needs. Yoast SEO
will hp your website rank better on search
engines and boost your organic reach.
Exciting Ready-Made Designs for your Freelance
Marketplace Website
Simplified Member
Management Dashboard
Built-in admin area with lots of tools to help
manage members, track orders, and easily
monetize the website.
---
One-on-one
Messaging System
Built-in chat system that allows buyers and sellers to
chat (after purchasing a gig/job) to send files and
better understand the scope of work.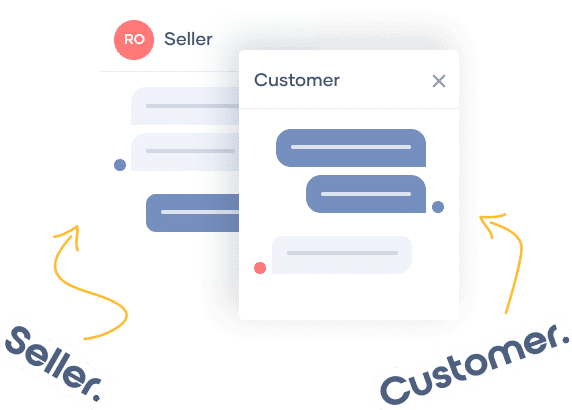 Built-in one-on-one Messaging System
Buyers and Sellers can
communicate with much
ease!
---
Built-in Payment and
Checkout System
Seamless payment integration with your website.
---
Highly Responsive to all Screens
Whatever device you use, your site will be highly
responsive and run as it should.
A Wonderful Design
Fully responsive layout
for all types of devices.
---
SEO Enabled
Built-in SEO optimisation feature to help your
site rank better in Google SERP and gain
more traffic & clients.
Run an Entire Freelance Marketplace Business from One Platform
Offer your services or let other freelancers create profiles on your website & offer their services. Manage accounts easily, settle payments online, and charge a commission for other gigs on your website.
With MakeYourWP, you can manage your site's domain, hosting, design, content, transactions, and everything from its dashboard.
Create as many Categories & Freelance Gigs as you want!
This template makes search-ability easier by creating multiple categories and adding hundreds of jobs under each category.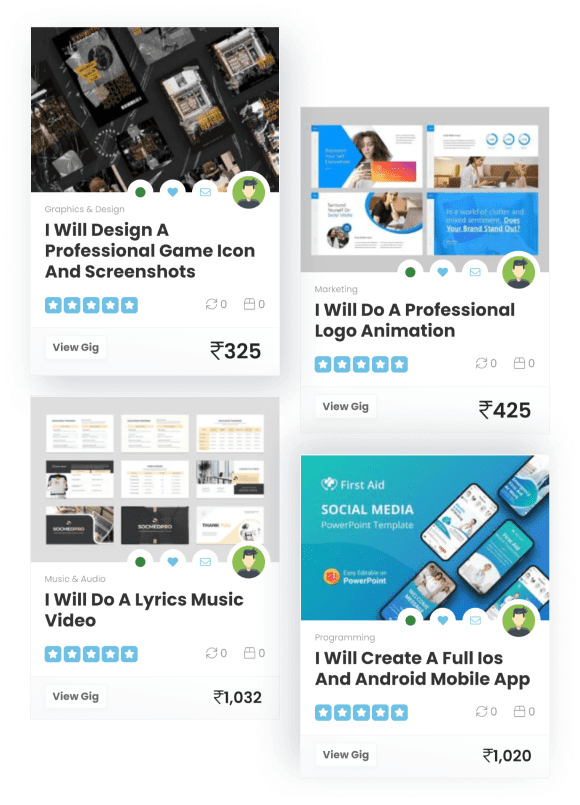 Our freelance marketplace website template offers custom searches & filters to help your customers find the right services they're looking for.

The template also makes it easier for you to track and manage multiple clients & gigs through a dedicated member area and smooth purchase processes.
Some Intriguing FAQ
I already have a website hosted on "Platform A," How can I connect it with MakeYourWP?
When you purchase MakeYourWP templates, you also get a hosting plan for the same duration. Our experts will handle the hassle of shifting your website from your previous host to MakeYourWP.
---
Do I get hundreds of design & feature options to choose from?
We know how overwhelming and confusing it can be to pick one tool, design, or feature from a sea of similar ones. That is why, our team has handpicked the BEST ones for your website, making it easier for you to choose from.
---
Will my website load fast if I use huge-file templates?
When you invest in MakeYourWP, your website will now be hosted with Lite-speed-powered caching and custom-built optimisation. This makes sure your website doesn't take longer to load.
---
What if something goes wrong with my website? How do I fix it?
We offer top-notch security and daily backups. If anything goes wrong, our experts will get your site back up in no time!
---
How safe is my website with MakeYourWP?
When you host with MakeYourWP, all of your website files belong only to you. You can export your WordPress files anytime from the control panel. Need help shifting from or to MakeYourWP? Our expert support team is always at your service.
---
I'm convinced. What more do I get for free?
Along with the free staging site to test out new features, you also get a free SSL to protect your website from outside intrusion.