The excitement of a planned trip might be tempered by the worry of not knowing where to begin. Destination, mode of transportation, airline, and lodging are just a few factors to consider. And since there are so many hotels to choose from online, we frequently want assistance while making reservations. This is why having a pre-built hotel booking system is crucial. What if, however, expertise in technology or coding is required? Fear not! In this article, you will learn how to build a readymade hotel booking website without coding knowledge. Be ready to discover the secrets of creating a visually appealing website that will draw visitors worldwide!
Before discussing how to make hotel booking websites, let's examine what ready made websites are and the benefits of using them.
What is Ready Made Website?
Professionals have created a polished website for sale, complete with all the necessary features. These websites often offer pre-designed layouts, features, and capabilities that may be customized to match the user's needs.
The are a few advantages of using readymade website templates for your business. The following are the pros of using ready made website templates.
Time Saving: A readymade website may save a considerable time investment since it removes the need to start from the beginning. This is helpful for people and businesses that need a website quickly or who don't have a lot of money to spend on web design.
Cost Effective: Although they don't need as much time or effort to create, ready-made websites might be more cost-effective than customized designs. Moreover, they may already have many features and functionality you need to built-in.
User-friendly: Readymade websites are often simple to use and navigate since they are created with the end user in mind. People and companies without a lot of web design or development knowledge would benefit significantly from this.
Professional Design: Readymade websites often have expert designs, guaranteeing great quality and aesthetic appeal. This is especially helpful for those who lack the time, money, or knowledge to create a high-quality website on their own.
Customizable: Although ready-made websites have pre-built features and functionalities, they can still be modified to suit the user's specific requirements. Without investing much in design or development, users and companies alike may make the website work for them.
Ultimately, a ready-made website might be a terrific solution for people or enterprises that need a website fast, are working with limited finances, or have minimal website design or development knowledge.
How Can MakeYourWP Help You to Build a Hotel Booking Website?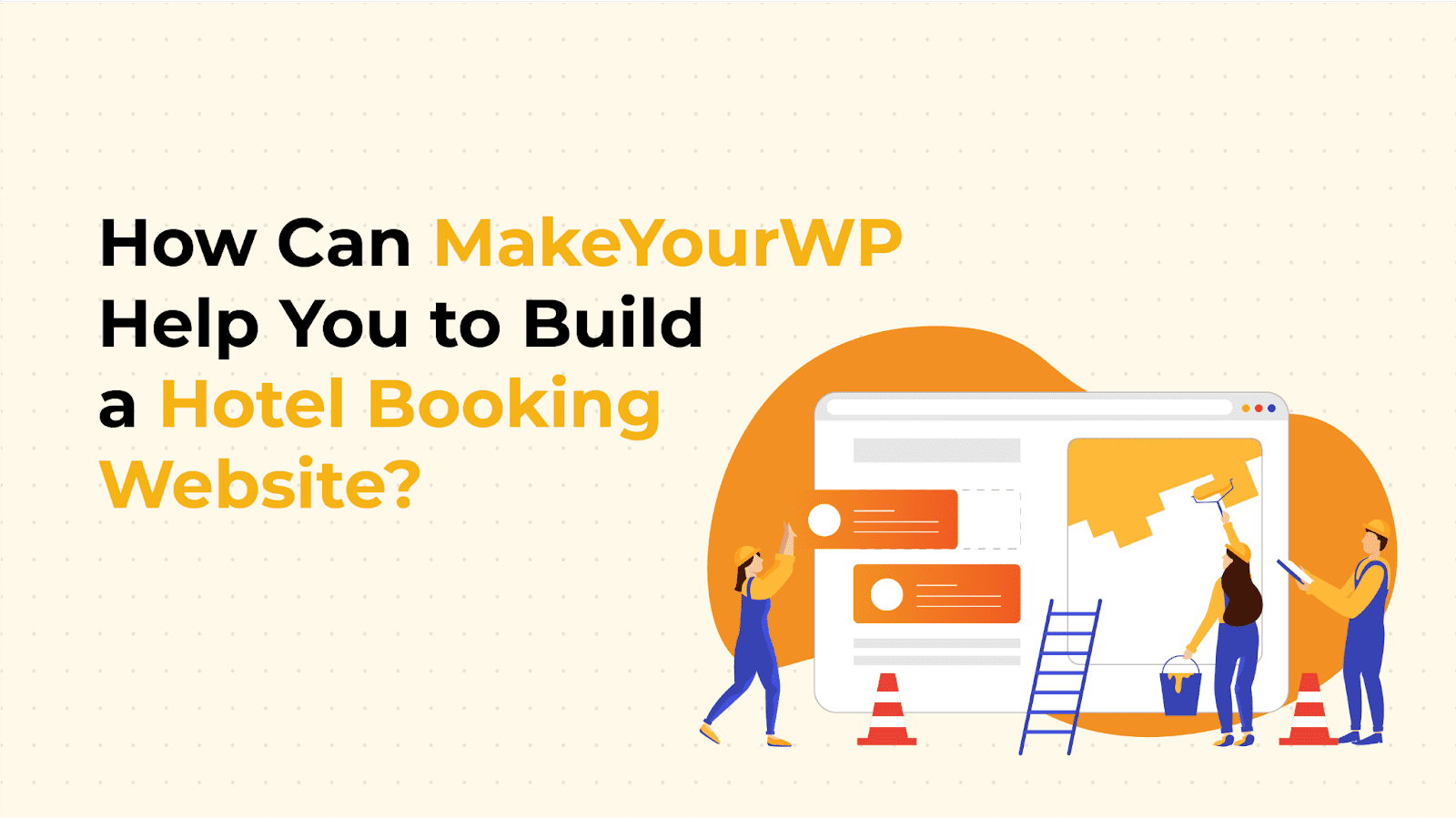 MakeYourWP is a robust and user-friendly WordPress plugin that facilitates the rapid development of a fully functional hotel booking website with zero coding experience required. Get started by installing the plugin and then following the instructions.
MakeYourWP has many features necessary to launch a successful hotel booking website, such as a flexible booking form, a room management system, and the ability to accept online payments. MakeYourWP also provides search engine optimization techniques to boost site visibility.
So, if you plan to build a professional hotel booking website without coding knowledge, MakeYourWP is the perfect solution.
How to Set up a Readymade Hotel Booking Website with MakeYourWP?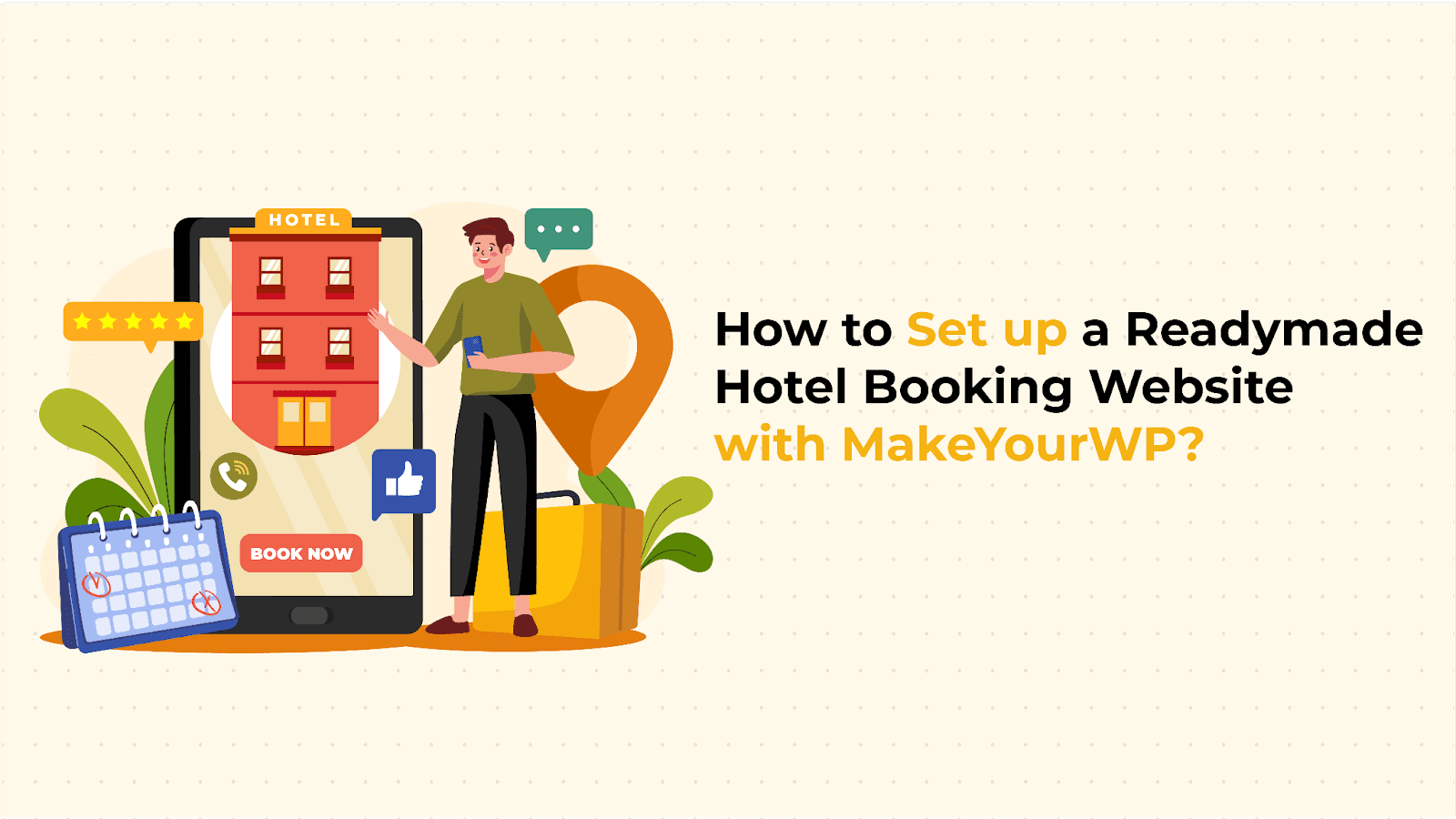 MakeYourWP is ideal if you want to create a hotel booking website but don't know how to code. MakeYourWP makes it simple to launch a fully functional website in a matter of minutes.
Create an account, then select a layout that best suits your needs. After settling on a theme, you may alter the look of your site by replacing placeholder text, photos, and other elements with your own. Incorporating elements like Google Maps, online forms, and payment gateways into your site is possible. Promote your hotel's services online once your site is ready for release.
How to Build a Hotel Booking Website?
To quickly build a readymade hotel booking website from MakeYourWP, watch the below video by Website Learners!
Benefits of Using MakeYourWP Readymade Hotel Booking Websites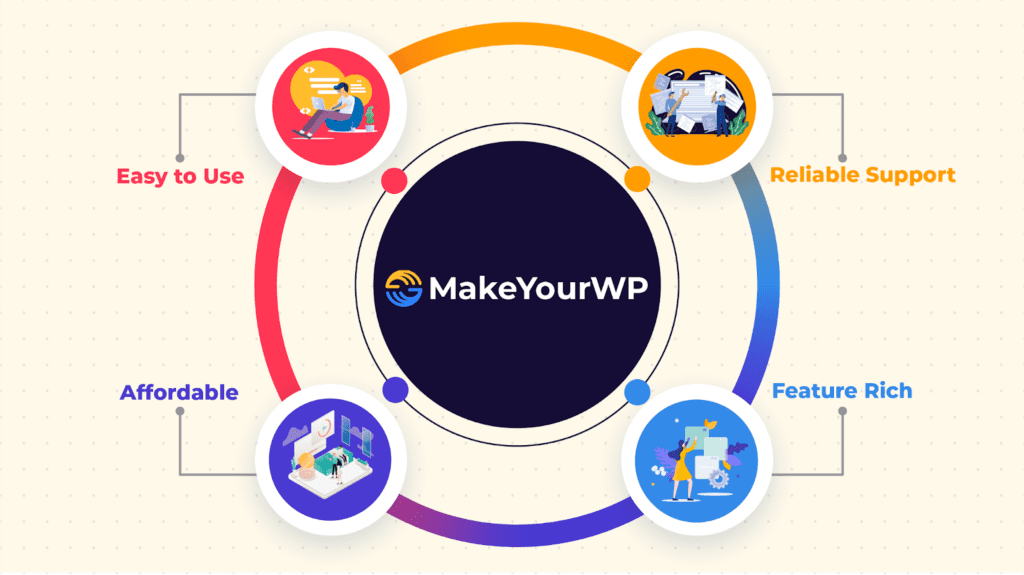 Making use of MakeYourWP for hotel booking websites has several advantages. You don't need any coding skills to make a website that seems like it was designed by an expert using this platform. In addition, the platform is incredibly user-friendly, providing a wide range of features and tools for simple website administration.
There are several reasons why hotel booking websites should use MakeYourWP.
Easy to Use
As was previously mentioned, MakeYourWP is a user-friendly platform that requires no coding skills whatsoever. The pages and layout you want may be made with a simple drag-and-drop interface. MakeYourWP also has several handy tools that streamline the hotel reservation process.
Affordable
One further advantageous aspect of utilizing MakeYourWP is that, in comparison to other platforms of a similar nature, it is more economical. As a result, it is a good choice for less established companies or new enterprises operating on a limited budget.
Feature Rich
Although MakeYourWP is inexpensive, it offers a wide variety of features and tools that may assist you in developing a website that appears to have been professionally designed. A hotel reservation system, an online payment gateway, SEO management, and other functions are also essential to run the hotel booking system online.
Reliable Support
If you run into any problems while using MakeYourWP, you can get help from the customer support team, who are always ready to assist you with any questions or concerns you may have. The support staff at MakeYourWP is ready around the clock to assist users with any problems or inquiries.
How to Customize the Readymade Hotel Booking Website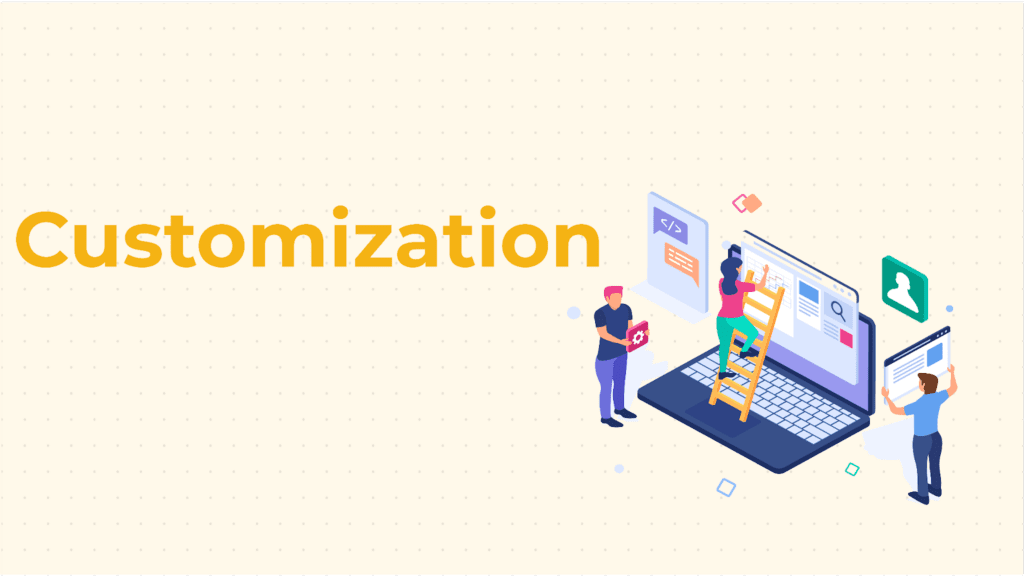 Making a website for booking hotels from scratch is not easy, especially if you are unfamiliar with coding. But, you may find ready-made hotel booking website templates from MakeYourWP and adapt them to your needs.
The first step in starting a hotel booking business is to locate a suitable website template. You may pick from a wide variety of premade layouts. As such, pick one that gels with the goals of your site and the underlying philosophy. When you finally locate a template that works for you, purchase the plan and save it to your computer and unzip it.
Open the template in your web development platform of choice, and then work customizing it to meet your needs. You may modify the layout and colouring, add or remove pages, and insert your own text and images as you see fit. For example, you could add a payment gateway or a reservation system to your website. For this, you will need to look for suitable add-ons for your web design software.
When you are happy with your changes, please save your file and upload it to your web server. That's it! You have successfully customized a readymade hotel booking website template without coding knowledge.
Integrating Payment Gateways and Other Essential Features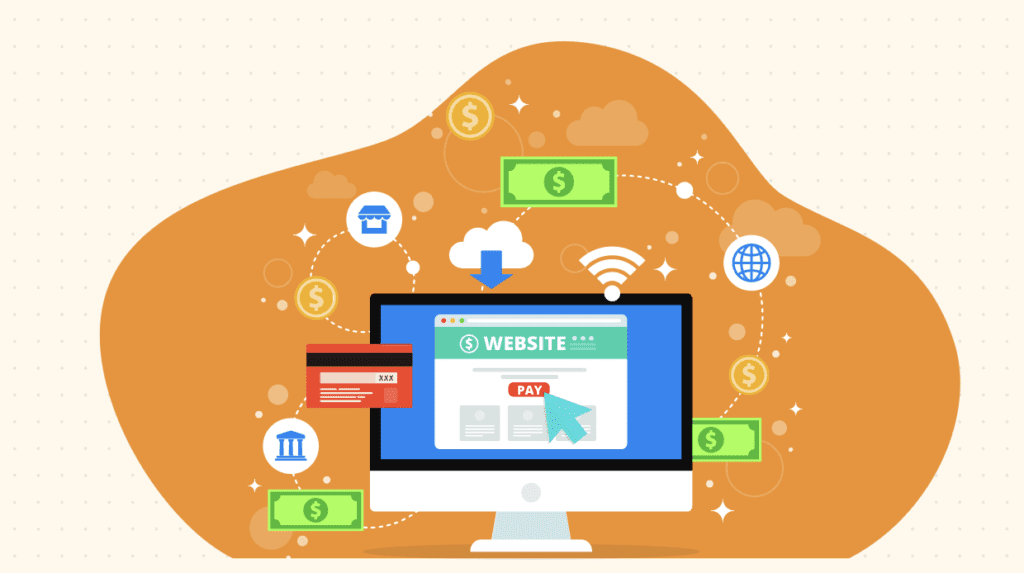 Now, you have a readymade hotel booking website template. The next step is integrating it with a payment gateway. It is an essential feature for any e-commerce website as it allows customers to pay for goods or services online. Many payment gateways are available, so choosing one compatible with your website template is necessary. Once you've integrated the payment gateway, you can add other essential features to your website, such as a search function, social media buttons, and a contact form.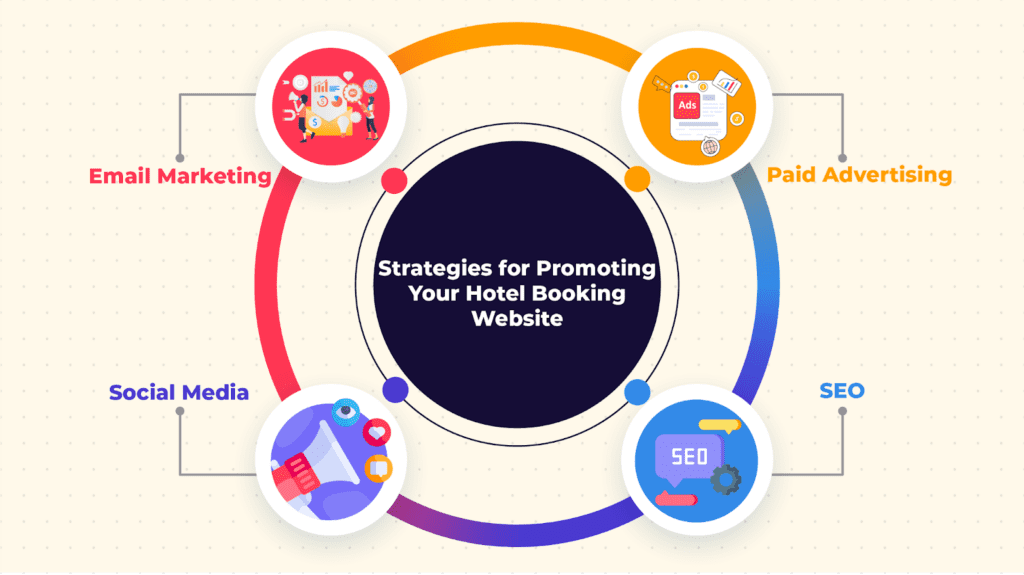 Do you need help to drive traffic and bookings to your hotel booking website? You are not alone. With so many online options, it can take time for hotels to stand out. But fear not – MakeYourWP is here to help! From optimizing your site for search engines to leveraging social media, we have all the tips and tricks you need to take your hotel business to the next level.
SEO
Search Engine Optimisation (SEO) is one of the most important aspects of promoting your hotel booking website. Optimizing your website for search engines can increase your visibility and ranking in search engine results pages (SERPs), ultimately leading to more bookings.
You can do many things to optimize your hotel booking website for SEO:
Ensure your site is mobile-friendly as more and more people search for hotels on their mobile devices.
Create unique and relevant content with targeted keywords related to your hotel and location.
Build links to your website from other high-quality websites to improve your link popularity and SERP ranking.
By following these SEO tips, you can improve your chances of getting found by potential guests who are searching for hotels in your area. In addition, a solid SEO strategy will help you attract more visitors to your site, resulting in more bookings and increased revenue for your business.
Social Media
MakeYourWP is an effective reservation system that facilitates more exposure for hotels on the web and the acquisition of new customers. So how exactly can you use MakeYourWP to advertise your online hotel reservation service?
Get more visitors to your site by using social media. Construct exciting content and share it with booking links for your hotel on social media sites like Instagram, Twitter, and Facebook.
Paid Advertising
Promoting your online hotel booking service via paid advertising is highly recommended. Pay-per-click (PPC) advertising may help bring your hotel's website in front of people actively looking for a place to stay in your region. Retargeting is another method you may use to connect with individuals who have previously visited your website.
Email Marketing
Promoting your hotel booking website and informing consumers about current sales and discounts is a breeze with email marketing. To maximize the effectiveness of your email marketing initiatives, consider the following:
E-mails should be brief and to the point. Emails that are brief and simple to skim are more likely to be read and acted upon by the recipient.
Every email should have a clear CTA. If you want clients to book a room with you, make it simple for them to do so on your website by offering links or buttons that take them directly there.
Use attractive visuals. Emails with images or videos are more eye-catching than plain text emails, so include some visuals in your messages.
Personalize your emails. Addressing customers by name in the subject line and body of your email can make them feel more valued, increasing the likelihood that they will take action on your message.
Test, test, test! Try to send different versions of your email to small groups of customers to see which one performs best before sending it out to your entire list.
By following these strategies, you can effectively promote your hotel booking website and drive traffic, increasing bookings and revenue.
Also, explore:
Conclusion
Building a readymade hotel booking website without coding knowledge has never been easier. With the right resources and tools, you can quickly create an aesthetically pleasing and fully functional website that will make it easy for visitors to book their stay at your property in no time. Of course, if you need technical assistance, plenty of experts specialize in helping businesses like yours build stunning sites from scratch. With just a little effort with our MakeYourWP, you can have a fully functional hotel booking website up quickly!
FAQs
How to create a readymade hotel booking website?

MakeYourWP allows you to build a fully-featured hotel booking website quickly. We have designed these themes to be both beautiful and straightforward to use so that you can start taking bookings right away.
MakeYourWP provides several helpful resources for its users. They include a user-friendly search bar, safe payment methods, glowing customer reviews, and more. Launching a hotel booking website is a breeze with MakeYourWP's intuitive interface and a large collection of readymade themes and plugins
How much does it cost to build a hotel booking website?

The price of your website will vary according to its functionality and design. It comes with a 24/7 customer support staff. That said, be ready to create a first-rate, low-cost hotel booking website.
How does a hotel booking website work?

Facilitating online room reservations is a primary goal of a hotel booking website. Clients may accomplish this quickly and simply by entering their travel dates and preferred location to get a complete catalog of hotels in the region.
After settling on a hotel, the guest may choose a room and pay in advance through a credit card or arrival via cash. When a reservation is made, the relevant information about the visitor is stored in the hotel's database.
What are the features of a hotel booking website from MakeYourWP?

Dynamic reservation forms, numerous payment methods, customer reviews, and comprehensive search and filter options are just a few of the consumer-friendly features included in our hotel booking website designs. With our integrated SEO and analytics tools, you can monitor and enhance your results over time
How can I test the hotel booking website before launching it?

You can forget about testing with MakeYourWP. We have gone ahead and completed the service for you. Our pre-built website themes have been thoroughly tested to ensure they will operate right out of the box. After making the necessary changes, you may release your hotel booking website with full confidence.