When you run a business, it is essential to have a website in order to communicate with targeted clients and promote your brand. But, when it comes to establishing a website, you primarily have two options – utilizing a WordPress theme or purchasing a readymade website. To help you decide which is better for your business, we'll look at how WordPress themes stack up against readymade websites.
What is a WordPress Theme?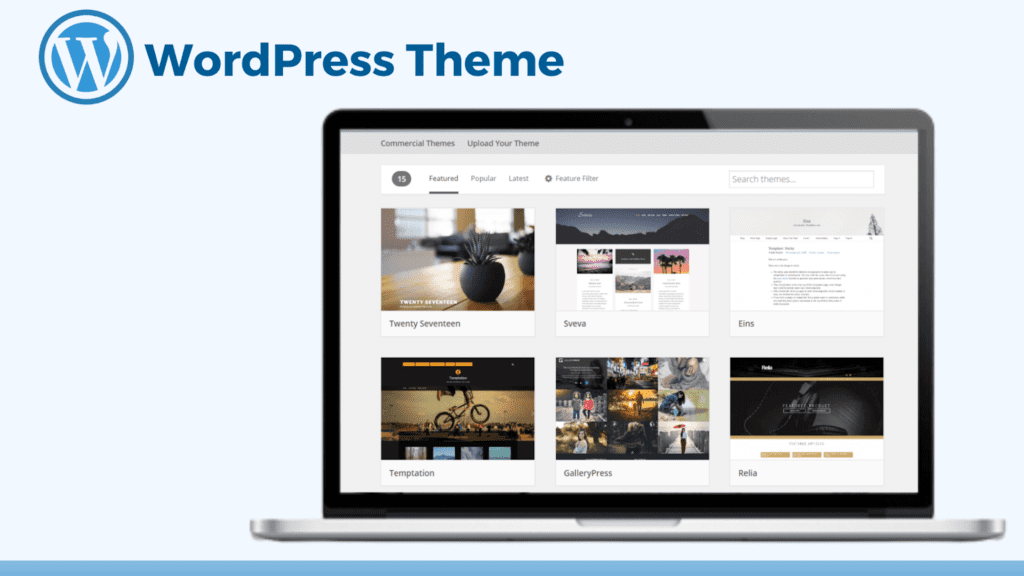 A WordPress theme is a pre-made layout that can serve as the basis for a website running on the WordPress platform. With the variety of options, it's probable that your business will be able to discover one that suits its needs. Since WordPress themes are modifiable, you can alter your website's appearance and include new functionalities without knowing how to code.
Advantages of WordPress Theme
Choosing the correct platform is essential when developing a website for a company. In recent years, WordPress themes have exploded in popularity because of their user-friendliness and adaptability. Consider these benefits and downsides before deciding whether or not to use a WordPress theme for your company's website:
Customization
The ability to make changes to a WordPress theme is a major benefit. Businesses can choose a layout that speaks to their audience and is consistent with their brand identity from among several premade themes and layouts.
Moreover, WordPress themes enable enterprises to modify the look and feel of their website in a wide range of ways, including the choice of colours, fonts, layouts, and functionalities. It's worth noting that some firms can not be able to invest the time or energy into learning the necessary technical skills for customization because of this.
Cost
Using WordPress themes can save you money, which is a major benefit. There are many of free options, and even paying for a premium theme is often less expensive than hiring a web designer. Furthermore, WordPress provides a wide range of free and low-cost plugins that can extend your website's features, such as contact forms, social network integration, and e-commerce tools.
However, the cost of premium plugins and any necessary development assistance for customization can quickly mount up. When deciding whether or not to use a WordPress theme, it is crucial to consider the additional costs of plugins, hosting, and design/development.
SEO Friendly
WordPress themes aren't only versatile and cheap, they also help your site rank well in search engines. Many accessible themes already have SEO features since the platform was created with SEO best practices in mind. Code optimization, schema markup, and compatibility with popular search engine optimization plugins like Yoast SEO are just a few examples.
Companies might benefit from higher search engine ranks and more website traffic due to this. Remember that search engine optimization (SEO) is an ongoing process and that using too many plugins might reduce your site's performance and negatively impact your SEO.
Availability of Plugins
Finally, another perk of WordPress themes is that plugins are readily available to extend their functionality. Companies can quickly and simply search and install plugins from the WordPress plugin repository to enhance the features and functionality of their website with tools like picture galleries, sliders, and social network feeds.
But, the downside of using a large number of plugins is that your site's speed will be affected, and security vulnerabilities can increase. It is very important to use only reliable plugins and to update them frequently.
Disadvantages of WordPress Theme
The cons of using WordPress themes are as follows:
Require Technical Knowledge
It takes technical expertise to install and modify WordPress themes. While the drag-and-drop interface certainly speeds up the process of building a website, there is still a need for technical knowledge in areas like maintaining plugins and updates and fixing bugs.
In order to keep their website running well, companies without the necessary technical understanding can need to employ a professional.
Security and Maintenance Issues
Since the code for WordPress themes is freely available, hackers might potentially exploit any flaws they identify. Inadequate website maintenance and security measures could lead to this problem. It's also important to keep your WordPress theme up-to-date with the newest security patches and features, which can be time-consuming and complicated.
Not Compatible with Future Updates
WordPress is an ever-evolving system, with new versions appearing on the scene often. The incompatibility of certain WordPress themes with subsequent upgrades, however, disrupts site functioning or even renders the site inaccessible. That's why it's crucial for companies utilizing WordPress themes to keep their site up-to-date at all times to guarantee compatibility with the most recent release of WordPress.
What is a Readymade Website?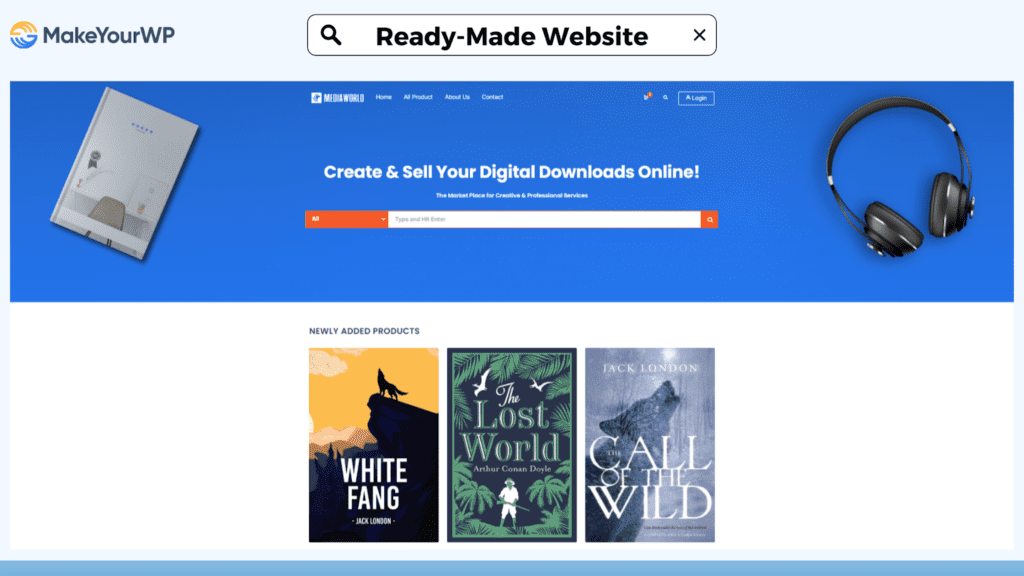 A ready-made website is one that has already been created and used right away. You can get a website up and running fast and simply without having to learn any coding or design skills since much of the hard work has already been done for you. You can buy readymade website templates from many online platforms available such as MakeYourWP, then modify them to suit your requirements and interests. Small companies, individuals, and organizations typically use them because they allow them to create a website that looks professional without having to start from scratch.
Advantages of Readymade Website
Choosing a website that has already been developed, such as an online course website, hotel booking website, and so on, provides several benefits if you need to have your site up and running quickly. There are several advantages to using a readymade website template.
Ready to Use and Launch Quickly
Buying a readymade website saves you time and energy since you don't have to build the foundation from scratch. Constructing a website from scratch is an inefficient use of time.
With a readymade website, you can choose a website template that fits your business's needs and tailor it to your own specifications. This will free up more of your time, enabling you to focus on other areas of running a business.
Easy to Set Up and Manage
The simplicity of setting up and maintaining it is yet another perk of a readymade website. With the help of most ready-made website platforms' user-friendly interfaces and simple drag-and-drop options, anybody, regardless of their level of technical skill, can easily develop a website that looks and functions like a professional version.
As a further advantage, many ready-made sites include tools like analytics and customer relationship management (CRM) software, as well as content management systems (CMSs), which streamline website maintenance.
SEO Friendly
Search Engine Optimization (SEO) is often included throughout the design process of readymade websites. They come with features that simplify for search engines to scan and index your website, such as clean code, optimized pictures, and meta tags. These characteristics make it easier for search engines to crawl and index your website.
You can optimize your website for search engines and improve your ranks in search results with the help of search engine optimization (SEO) tools and plugins included in many ready-made website platforms. Using these add-ons and extensions, you can boost your site's visibility in SERPs.
Technical Support
The majority of ready-made website platforms offer technical support to users. You can reach out to the team whenever you need help with your website, and they will do their best to assist you. Your questions about the design of the website or problems with its functionality can be answered by them.
Security and Maintenance Included
The fact that ready-made websites often have built-in maintenance and security features is only one of their many benefits. For the site owner, this removes a huge headache. Because of this, you won't need to worry about keeping your website secure or up-to-date.
SSL encryption, which secures data sent between a website and a user's browser, is a common feature of readymade websites. This can make it harder for hackers to get private data like passwords or credit card numbers.
Your website will always be protected and up to date since the platform provider will handle all of the maintenance and security-related responsibilities for you. Because of this, you won't need to pay a web developer or an information technology specialist to manage your website, which can save you a significant amount of time and money in the long run.
Also, check:
Disadvantages of Readymade Website
The following are the few drawbacks of a readymade website:
Limited Customization Options
The inability to make significant changes to readymade website themes is a key drawback. While some themes have pre-designed templates and layouts, there is a limit to how much you can alter them to suit your particular brand and company. Because of this, your website can end up appearing like everyone else.
Furthermore, other competitors in your field can be utilizing the same theme, further lowering your website's originality since prepackaged themes are accessible to anybody who purchases them.
Payment for the Ongoing Subscription
The need to pay an ongoing charge is another issue with readymade websites. While ready-made themes might save you money in the short term, many of them charge a monthly or annual membership price for access to updates, technical support, and new features.
Over time, this might end up costing more than the alternative. When deciding on a readymade website theme, it's crucial to factor in the lifetime cost since it might be more expensive than starting from scratch.
Which Option is Best? – WordPress Theme Vs Readymade Website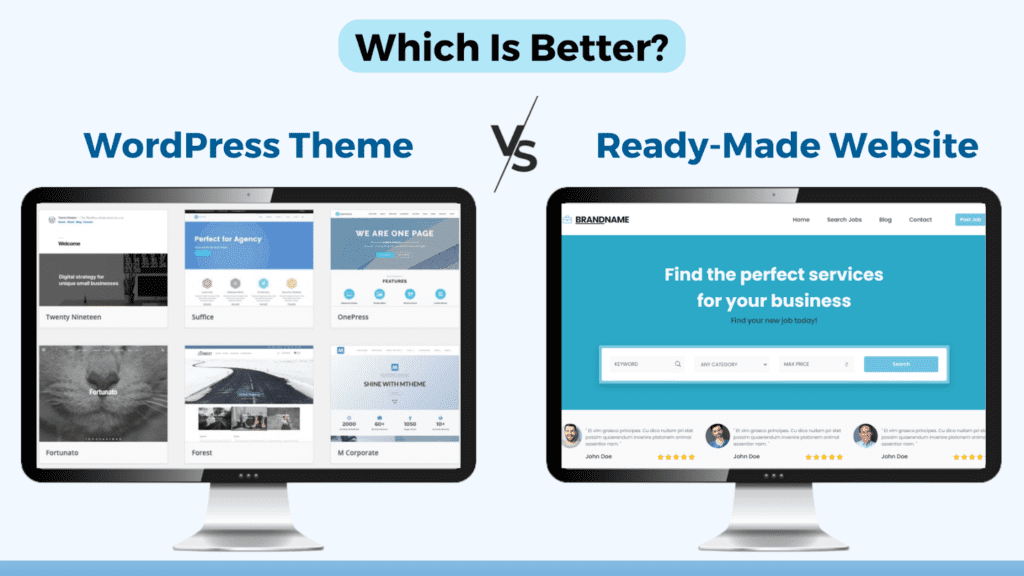 WordPress themes and readymade websites each have their benefits and drawbacks, so choosing the right one for your company is a matter of personal preference. In terms of ease of use and speed of rollout, however, readymade websites do have a clear edge over WordPress themes.
The ability to build a readymade website fast and simply without the need for technical expertise is one of its primary benefits. This means that even company owners who are not computer knowledgeable can have a website up and operate in a few hours that looks and functions professionally. In addition, readymade sites often have premade themes and designs, allowing you to make your site seem exactly as you want it to without having to learn how to code.
As a further perk, many subscription plans for ready-made websites also include regular technical assistance and updates. This frees up business owners from worrying about maintaining and taking care of their websites so that they can concentrate on running the business.
Also, explore:
Conclusion
The needs of your business will determine whether you should choose a WordPress theme or a ready-made website. WordPress themes can be the way to go if you're looking for a flexible, powerful, and SEO-friendly foundation for your website's design. Yet, if time is of the essence and you lack the resources to build a site from the ground up, a readymade website can be your best chance.
Remember that your website is essential to the online reputation of your company. You should carefully evaluate the design decisions you make if you want to increase the number of visitors to your site and the amount of time they spend there.
Also, stay tuned with Website Learners for more updates on WordPress courses!
FAQs on WordPress Theme Vs ReadyMade Website
What makes a WordPress theme different from a readymade website template?
WordPress themes, in contrast to readymade websites, are templates for the WordPress CMS that can be modified to suit individual needs. WordPress themes provide more freedom and personalization, but they need technical knowledge for installation and modification.
Which choice is best for my business requirements and goals?
Analyze your website objectives and how much flexibility and control you need over design and functionality. Building a website using a readymade template saves time. WordPress themes provide you with more flexibility and individual expression.
Can I alter the look of a WordPress theme?
WordPress themes provide more options to customize your site than readymade templates. Adding plugins and customizing your WordPress theme might help your site load faster.
What are the benefits of a readymade website?
It's easier, faster, and cheaper to use a readymade website. Non-technical folks can create a website quickly and easily with the help of ready-made websites that come with pre-designed themes and built-in functionalities.
Are there any restrictions on using WordPress themes?
WordPress themes give additional customization choices, although some themes have restrictions. Some themes are incompatible with plugins or need code to accomplish particular design or functionality components.